Dr. Sebastian Brune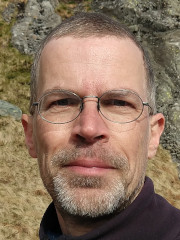 Foto: private
Wissenschaftlicher Mitarbeiter
Klimamodellierung
Anschrift
Universität Hamburg
Klimamodellierung
Bundesstr. 53
20146 Hamburg
Büro
Bu 53
Raum: 342
Kontakt
Schwerpunkte
Forschungsschwerpunkte
My research is dedicated to the modelling, analysis, and prediction of Earth's climate on sub-seasonal to multi-decadal time scales. For this purpose, I am creating climate simulations with the Max-Planck-Institute Earth System Model (MPI-ESM) on the high performance computer at DKRZ, or using already existing climate simulations from MPI-ESM and other Earth system models. A particular focus of my research is on the quality of initializations of climate predictions and a consistent assimilation of observations into MPI-ESM using ensemble Kalman filters.
Resolutions of MPI-ESM (atmosphere ECHAM6 / ocean MPIOM) currently in use:
LR - low resolution - T63L47 (≅ 210km) / GR15L40 (nominally 1.5° ≅ 160km)
MR - mixed resolution - T63L95 (≅ 210km) / TP04L40 (nominally 0.4° ≅ 50km)
HR - high resolution - T127L95 (≅ 100km) / TP04L40 (nominally 0.4° ≅ 50km)
Ongoing topics
Assimilation of observations (MPI-ESM-LR, MPI-ESM-HR, ICON):
Development, simulation, and analysis of weakly coupled assimilations with atmospheric nudging and oceanic ensemble Kalman filter. Assimilated parameters comprise of atmospheric temperature, pressure, and winds, and oceanic temperature, salinity, and sea ice concentration. Special emphasis is payed to find assimilation setups as model consistent as possible. Assimilation setups will be transferred to the ICON model when applicable.
Climate on the sub-seasonal time scale (weeks, MPI-ESM-MR):
Proof-of-concept for prediction of (i) European surface temperatures and (ii) Indian monsoon from 1990s to 2010s.
Climate on the seasonal time scale (months, MPI-ESM-HR):
Collaboration on the rolling development of the German seasonal forecast system GCFS with Deutscher Wetterdienst DWD and Max Planck Institue for Meteorology MPI-M. This is a contribution to Copernicus Climate Change Service operational seasonal forecasts.
Analysis of tropospheric predictions in the aftermath of sudden stratospheric warmings.
Climate on the inter-annual to decadal time scale (years, MPI-ESM-LR):
Simulation and analysis of large-ensemble decadal predictions.
Recognition of process chains carrying memory on inter-annual to decadal time scales. Evaluation of the prediction skill for corresponding parameters and regions.
Climate on the multi-decadal time scale (MPI-ESM-LR):
Simulation and analysis of large-ensemble historical and scenario simulations 1850-2100 under CMIP6 forcing.
Previous topics
MiKliP II: Development of an inter-annual to decadal climate prediction system.
AODA-PENG II: Initialization of the oceanic component of the MPI-ESM by assimilating oceanic observations with an ensemble Kalman filter.
Wissenschaftlicher Werdegang
present Research Scientist Climate Modelling, Institute of Oceanography, CEN, University of Hamburg
2012 Ph.D., Leibniz-Institute for Atmospheric Physics at the University of Rostock, Kühlungsborn Analysis of the Global Spectrum of the Atmospheric Horizontal Kinetic Energy from the Boundary Layer to the Mesopause, advisor: Erich Becker
2000 - 2005 Geophysicist, Wintershall AG, Kassel
2000 Diploma degree in Geophysics, Technical University of Clausthal, Messung der komplexen elektrischen Leitfähigkeit im Labor und im Feld (Measurement of complex electric conductivity in laboratory and field experiments), advisor: Andreas Weller