Interview with Dirk Notz
IPCC report: a look behind the scenes
10 November 2021, by Céline Gieße
Photo: IPCC
In August, the first part of the sixth IPCC (Intergovernmental Panel on Climate Change) Assessment Report was published, summarizing the state of scientific knowledge on climate change. One of the report's lead authors is Dirk Notz, professor of sea ice at the Institute of Oceanography. He co-authored the chapter on the ocean, cryosphere and sea level change, and also contributed to the summary for policymakers. In this interview, we talk about the complex process of preparing the report, the importance of the IPCC report, also in view of the currently ongoing UN Climate Change Conference (COP26) in Glasgow, and Dirk Notz shares what he personally took away from the work on the IPCC report. [Remark: The original interview was conducted in German.]
Céline Gieße: This was your first time as a lead author of an IPCC report. Was this experience as you had expected it to be or was there something that surprised you?
Dirk Notz: A bit of both. Of course, it was different than I expected because Corona got in our way. What also surprised me was how much work it took in the end. Colleagues had told me beforehand how intense it would be, but the fact that there were one or two teleconferences every week for months and sometimes years, that I constantly thought about it and, in some periods, spent every free minute on it, that did surprise me. In a value-neutral way, so to speak. What surprised me in a very positive way was how it was possible to make the more than 200 authors really feel like a team, especially when it came to discussing with the policymakers. I was very impressed by how the scientific community was able to speak with one voice.
CG: The preparation of the IPCC report is a huge project. More than 200 authors were involved alone in the first part of the report on the scientific basis. The report comprises almost 4000 pages. How does the preparation of the report take place - from the idea of writing the report to the final publication?
DN: The first important step is that governments basically ask the IPCC to commission scientists to produce such a report. Then, together with the governments, they look at what content they would like to see in it. At this so-called scoping meeting, the individual chapters with rough contents are determined. After that, teams of authors are put together for these individual chapters. In a relatively complex process, it is made sure that there is a good balance between new and experienced authors, that there is a good regional coverage, that all necessary expertise is well covered, and so on. When writing the report, the chapter to which you are assigned is your closest home, so to speak, and you locate yourself primarily with the other ten to twenty authors in your own chapter. Furthermore, there are several meetings, four in total, where the focus lies on the communication between the individual chapters. There, also cross-chapter working groups are meeting to have a look at which topics are perhaps not yet so well covered, what other chapters can contribute, etc.
CG: How long did the process take overall then?
DN: The first time we met was in 2018. And then there were various deadlines for when report iterations should be ready. That is to say, it was very much a wave-like working process with intensive phases but also weeks in which a little less happened, because the text was being reviewed, for example. All in all, it took three years.
CG: The report summarizes the current state of knowledge on climate change. The results are always communicated together with confidence and likelihood statements. Could you maybe explain again, what the difference is and how these statements are arrived at?
DN: Exactly. For me, that is also a great strength of the IPCC report. There is no other scientific discipline that has such an organized process, in which every six to seven years we as a scientific community try to determine how confident we are in the results of the past years. In that sense, the report is also not simply a review of what has been found but really an assessment of the robustness of our knowledge. There are two different tools for this. One is the confidence language, which allows us to judge whether, for example, there are different methods that all lead to the same result or whether there is only a very limited amount of evidence for a particular result. From this, the confidence in a certain statement can be determined. And then, for quantitative statements, there is also the likelihood scale, where we say how likely it is that a certain event occurs, for example from the probability distributions of the CMIP6 model simulations. Altogether, this leads to the report making a very differentiated distinction between statements that are simply facts, such as that humans are the main cause of current climate warming, to statements that are very uncertain, such as the timing at which possible tipping points in the Antarctic ice sheet might be crossed.
CG: What is new in the current IPCC report and what do you think is the biggest advance compared to previous reports?
DN: From a purely scientific point of view, the biggest advance is the narrowing down of climate sensitivity. There have been attempts for decades to narrow the range, and this has now been achieved for the first time based on the studies that have been published in recent years. What I think is important from a societal point of view, and what has actually happened in every IPCC report, is that the confidence in central statements from the earlier reports has increased once again. In other words, from a scientific point of view, we can often say that we are even more certain than before. This confirmation and reinforcement of previous statements is actually almost the most central element for me because it simply communicates how certain we are about the general science of climate change. And then, of course, there are a whole series of innovations, for example, that methodologically we have moved to weighting models based on how reliable we think they are. Or also that we can now make much more concrete statements on long-term sea level changes.
CG: The report was signed by 195 nations and especially the summary for policymakers was subject to very detailed negotiations with government representatives. How did you experience those negotiations?
DN: That is a very important part of the process, that, in the end, it's a report that stems from science, but that all governments agree to, because they have commissioned it. Therefore, the summary for policymakers goes through a two-week process, in which on a sentence by sentence level it is made sure that the content is acceptable to all the governments that are present. In practice, this means that individual sentences are sometimes discussed for almost the entire two-week period and compromises are found so that government representatives from individual countries, which may have reservations, in the end can also agree. Our role as scientists in this negotiation process is to ensure that everything that ends up in the summary is completely consistent with the science that we presented in the main report. However, there is some leeway in terms of what is communicated and how it is communicated, for example, how differentiated other greenhouse gases are discussed and whether, for the 1.5-degree target, one tends to focus on historical CO2 emissions or on those that we still have available. That's then basically a diplomatic negotiation between the government representatives, where we make sure that the science is correct.
CG: Were there any efforts to soften the formulations of the scientists or to push through own political interests?
DN: Yes, I think that goes in both ways. And it's understandable, as it is the role of diplomats to make sure that the governments of their respective countries can agree to the text in the end. Overall, however, my perception is that the summary has become much stronger as a result of these two weeks of negotiations. Because it also became clear where the sticking points are and where we have to formulate things very precisely in order to ensure that what we want to say is actually heard. There are a few small points that were expressed in a bit more complicated way in the end than it would have been necessary, perhaps. What's interesting, however, is that of course there are these efforts of individual countries but that it is not possible to impose any extreme positions, because other countries then try to prevent that accordingly. In the end, it's an attempt to negotiate a diplomatic compromise that all countries can live with. That's why I don't see any danger of statements being watered down, because there are always individual countries holding against.
CG: The 26th UN Climate Summit is currently taking place in Glasgow. What role does the new IPCC report play for this conference and the decisions that will be made there?
DN: A very central role, I would hope. In the sense that this report, which all governments have agreed to, can be taken as a foundation for the diplomatic negotiations in Glasgow and the statements of the report no longer need to be questioned. For example, what needs to happen to meet the 1.5-degree target, the fact that humans are primarily responsible for climate change, and so on. The report basically provides the guard rails within which the political negotiations in Glasgow can now take place. And I would hope that through these guard rails that the IPCC report provides, the negotiations can simply be more focused.
CG: To finish off, maybe a personal conclusion: What did you take away from the IPCC process?
DN: What I always find impressive and beautiful about the process is that it underlines once again how science manages to really shape itself constructively as an international network that transcends national borders. That in the entire IPCC scientific process, individual country interests do not play a role, but rather we could simply communicate with each other at eye level. And that we had this shared view that there is one science, one world, which we are trying to describe in the report. So for me, the IPCC report is actually a role model of how, in an ideal world, things would perhaps also work in political negotiations. That one steps back on one's own interests because one is aware of the common responsibility. That individual countries manage to realize that in the end it's about protecting the whole world from the worst effects of climate change. And that the interests of individual countries should actually play a much smaller role than they often do in practice. The IPCC process could actually be a wonderful model for how that can work.
CG: That's a nice concluding sentence. One very last question: would you do it again?
DN: Maybe with a little bit of temporal distance, I think. Right now, I'm glad that it's over for now. But who knows how things will look like in a few years.
Contact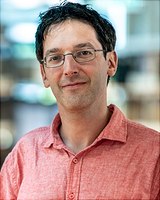 Prof. Dr. Dirk Notz is professor of sea ice at the Institute of Oceanography.
He is a lead author of the chapter on ocean, cryosphere and sea level change in the latest IPCC assessment report.
Céline Gieße is a PhD student in the working groups climate modelling/sea ice with an interest in Arctic climate change.