13 May 2022, by Iuliia Polkova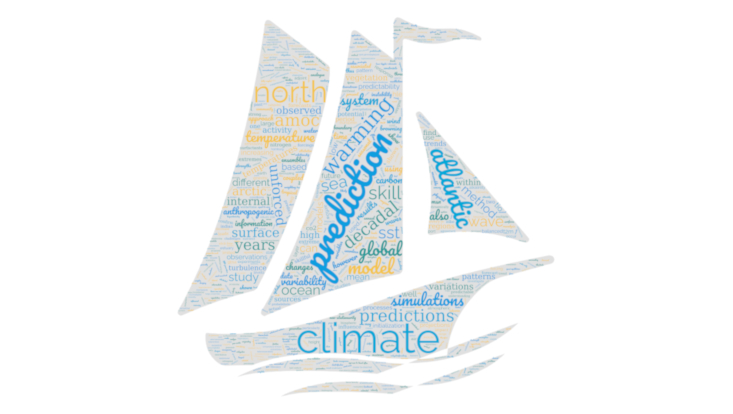 Photo: Iuliia Polkova/Wortwolken
The EGU General Assembly is Europe's largest annual geosciences conference. In 2022, it will take place for the first time in-presence since the beginning of the pandemic. And here is a short summary of what we are presenting from the institute this year. 
We will participate at the EGU 2022 with a variety of topics from experiments with a wind-wave tank to modeling the organic matter in Elbe Estuary, predicting storm activity in the German Bight and to learning how the Indian Ocean drives the Atlantic waters. Our scientists study processes that enable predicting climate from seasons to decades ahead. The topic that always strikes and fascinates many of us is how oceans "communicate" between each other. For instance, the Indian Ocean can reach out as far as to change ocean circulation in the North Atlantic. Want to have some fun and see what else makes Atlantic ocean circulation wiggle? Play in a climate model with temperatures in the Indian Ocean. One of the predictable and at the same time challenging regions to predict is the North Atlantic. From one side, ocean flow that brings warm water toward the pole and transports cold water from the pole should be predictable. On the other side, many more things than just this water transport are happening in the North Atlantic and distract the Atlantic from being well predicted. Sometimes he just needs to chat about his stressy live with his pal - the Indian Ocean. But then the Pacific likes to chat too. So they are communicating through the interplanetary operator "Rossby Waves" that provides the network underwater too. Not to forget his interactions with the close neighbour - the Arctic, who struggles greatly with the global warming. And in the future, he will be even more busy responding  to external forcing such as CO2 emissions. Thus, we also need to learn how CO2 is coming into the ocean. Pfuff… A lot of distractions for the Atlantic. No wonder we struggle to predict him. Greening of Greenland is not really on the horizon. And here the Atlantic is guilty too. The Atlantic just likes to keep us all busy. Of course, he is very important for our climate. By the way, he was not always that unpredictable. Sometimes he was quite reasonable in fact.  Maybe we can even use this as analog in the future, if we see that he comes in his predictable phase again. We are observing him carefully, we want to know all about him seamlessly well from days to centuries, we want to optimally use all our observations and knowledge to predict his next moves. Good news! We just learned that the probability of storm activity can actually be predictable. Step by step we'll know him better.
About the author
Dr. Iuliia Polkova is a climate researcher with keen interest for making climate predictions useful for society.