Dr. Johannes Pätsch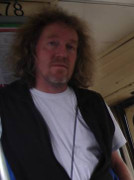 Research Scientist
Theoretical Oceanography
Address
Universität Hamburg
Theoretical Oceanography
Bundesstr. 53
20146 Hamburg
Office
Bu 53
Room: 352
Contact
Key aspects of activity
Theoretical Oceanography
Ecosystem Modelling
Scientific path
since 1993Research scientist at the Institute of Oceanography, Universität Hamburg. Participation in several projects concerning ecological modelling ofmarine systems.
1993 PhD (Dr. rer. nat.) in natural sciences at Universität Hamburg
1988 - 1993 Scientific employee at the German Weather Service, Seewetteramt Hamburg. Project: "An accompaning wind measuring program for the windpower plant at Helgoland island."
1987 Diploma in Information Science and Mathematics
1979 - 1987 At the Christian-Albrechts-Universität Kiel: Scientific Assistent at the Institute of Oceanography University KielFocal point of training: Multi-Grid-Technology (Prof. Dr. Hackbusch)
1978 Abitur (A-Level)
1969 - 1978 at Kepler-Gymnasiums in Pforzheim
28.1.1959 born