Dr. David Nielsen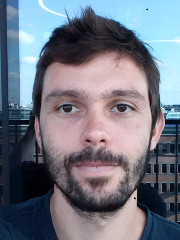 Photo: private
Visiting scholar
Climate Modelling
Address
Universität Hamburg
Faculty of Mathematics, Informatics and Natural Sciences
Climate Modelling
Bundesstr. 53
20146 Hamburg
Office
Bu53
Room: 216
Contact
Key aspects of activity
Research
Nunataryuk - Work Package 8: Understanding of coastal erosion drivers under a changing climate in the Arctic. Develop statistical models for coastal erosion based on observations, and improve its representation in Earth System Models.
Scientific path
2018-current PhD candidate at the International Max Planck Research School on Earth System Modelling and Universität Hamburg, Germany. Advisors: Dr. Mikhail Dobrynin and Prof. Dr. Johanna Baehr.
2016-2018 MSc. Biosystems Engineering (focus Meteorology and Climate), Universidade Federal Fluminense, Brazil.
2017 Internship at Laboratoire d'Oceanographie et du Climat (LOCEAN), Université Pierre et Marie Curie, France.
2013-2014 Bachelor's thesis Earth Sciences, Vrije Universiteit Amsterdam, the Netherlands.
2010-2015 BSc. Environmental Engineering, Universidade Federal Fluminense, Brazil.