David Nielsen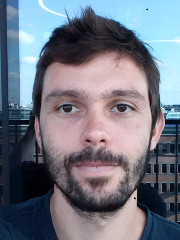 Photo: private
PhD student
Climate Modelling
Address
Universität Hamburg
Faculty of Mathematics, Informatics and Natural Sciences
Climate Modelling
Bundesstr. 53
20146 Hamburg
Office
Bu53
Room: 339
Contact
Key aspects of activity
Research
Nunataryuk - Work Package 8: Understanding of coastal erosion drivers under a changing climate in the Arctic. Develop statistical models for coastal erosion based on observations, and improve its representation in Earth System Models.
Publications
Nielsen, D. M., Dobrynin, M., Baehr, J., Razumov, S., and Grigoriev, M.. "Coastal erosion variability at the southern Laptev Sea linked to winter sea ice and the Arctic Oscillation". Geophysical Research Letters (2020): S. 1-11.doi: 10.1029/2019GL086876
Nielsen, D. M., Belém, A. L., Marton, E., and Cataldi, M.. "Dynamics-based regression models for the South Atlantic Convergence Zone". Climate Dynamics (2018): S. 1-27.doi: 10.1007/s00382-018-4460-4
Nielsen, D. M., Cataldi, M., Belém, A. L., and Albuquerque, A. L. S. . "Local indices for the South American monsoon system and its impacts on Southeast Brazilian precipitation patterns". Natural Hazards 83(2). (2016): S. 909-928.doi: 10.1007/s11069-016-2355-4
Complete list of publications
Scientific path
2018-current PhD candidate at the International Max Planck Research School on Earth System Modelling and Universität Hamburg, Germany. Advisors: Dr. Mikhail Dobrynin and Prof. Dr. Johanna Baehr.
2016-2018 MSc. Biosystems Engineering (focus Meteorology and Climate), Universidade Federal Fluminense, Brazil.
2017 Internship at Laboratoire d'Oceanographie et du Climat (LOCEAN), Université Pierre et Marie Curie, France.
2013-2014 Bachelor's thesis Earth Sciences, Vrije Universiteit Amsterdam, the Netherlands.
2010-2015 BSc. Environmental Engineering, Universidade Federal Fluminense, Brazil.
---