Dr. Armin Köhl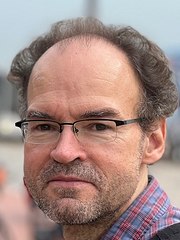 Photo: Armin Köhl
Research Scientist
Remote Sensing & Assimilation
Address
Universität Hamburg
Remote Sensing & Assimilation
Bundesstr. 53
20146 Hamburg
Office
Bu 53
Room: 138
Contact
Fax: +49 40 4273-12040
Key aspects of activity
Remote Sensing & Assimilation
Scientific path
since 2004 Research scientist at the Institute of Oceanography, Universität Hamburg
2002-2004 Project scientist at Scripps Institute of Oceanography, La Jolla, Kalifornien, USA
2000-2002 Post-Doc at Scripps Institute of Oceanography, La Jolla, Kalifornien, USA
2000 Post-Doc at Institut für Meereskunde, Kiel
1999 PhD at the University of Kiel
1995 Diploma degree in Physics at the University of Düsseldorf
Main research interests
state estimation
data assimilation methods
large scale oceanic circulation and its low frequency variability
sea level variability
meridional overturning
mesoscale variability
climate prediction
Projects
Determination of mixing processes in the oceanic boundary layer by assimilation of high-resolution hydrographic data in a circulation model with a mixed layer parameterization (BMBF RACE)
Analysis and prediction of regional sea-level changes with linear inverse models (BMBF RACE)
Modul A: Initial conditions/Initialisation, MiKlip Medium range climate predictions
Thermohaline Circulation at Risk (THOR), EU FP 7.
NACLIM EU FP 7
Determination of key processes of the North Atlantic circulation through data synthesis. In The North Atlantic as part of the Climate system: Pilot-Application of an observing and diagnostic system for the regional Zirkulation in the North Atlantic and the North Sea, Nordatlantik, BMBF, Germany.