Curriculum
The MSc Ocean and Climate Physics is divided into seven modules. Those modules cover all important facets of physical oceanography and physical climate science, give students the opportunities to broaden their horizons in the natural sciences and actively prepare them for their final master thesis and the work in a scientific environment.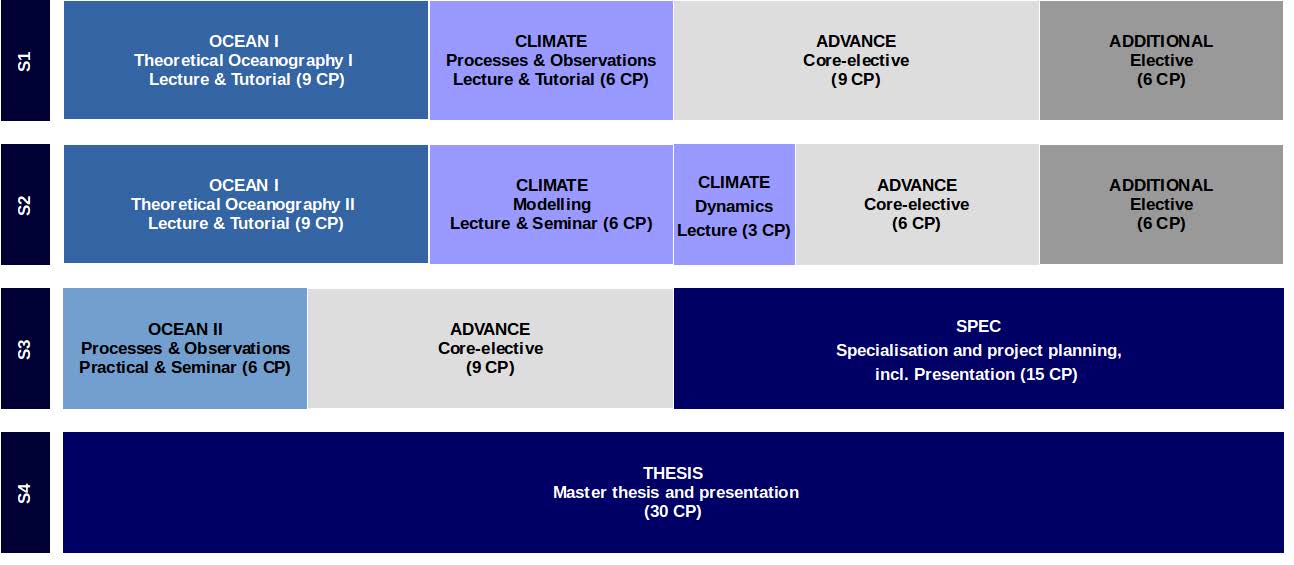 Structure
The six modules of the Ocean and Climate Physics program are organized in four semesters of 30 CP each, totaling 120 CP over two years. The individual terms are shown in the figure above and are described in more detail in the following paragraphs.
Winter term 1
Consolidation of knowledge of ocean physics with respect to large scale circulation patterns, Navier-Stokes equation and common approximations (Theoretical Oceanography I), acquisition of profound knowledge of ocean-climate coupling in theory and observations (Climate processes & observations), core-elective courses of 9 CP and elective courses of 6 CP.
Summer term 1
Consolidation of knowledge of ocean physics with respect to waves and turbulence (Theoretical Oceanography II), acquisition of profound knowledge of climate modeling, model development and evaluation (Climate Modeling), acquisition of profound knowledge of climate dynamics by means of simplification and stability analysis (Climate Dynamics), core-elective courses and elective courses of 6 CP each.
Winter term 2
Conveying of specific expert knowledge on selected oceanic processes by means of a seminar and practical (Oceanic processes & observations), core-elective courses of 9 CP, development of expert knowledge in an individually selected subject by work within a research group, with presentation of the results to IfM (Specialization and project planning).
Summer term 2
Preparation of MSc thesis with one-to-one mentoring by a professor and work group scientist over a period of six months. The thesis is also presented in a scientific talk to IfM with follow-up questions from the audience.
OCEAN Module
The OCEAN I Module is designed to teach students a profound understanding of the full range of topics in physical oceanography. This is done by two lectures in about theoretical oceanography and corresponding exercises. The OCEAN Module contains two courses:
Theoretical Oceanography I
Theoretical Oceanography II

The OCEAN II Module is designed to deepen the understanding of the processes learned during the OCEAN I Module. This is done by linking different teaching approaches like theory, numerical modelling and tank experiments. The OCEAN II Module contains one course:
Oceanic Processes and Observations
For further information please see the Module Handbook.
CLIMATE Module
The CLIMATE Module equips students with a thorough understanding of climate physics, covering processes varying on different temporal and spatial scales. A particular focus lies on the analysis of climate relevant processes in both observations and models, including their combination. The CLIMATE Module consists of three courses:
Climate Processes and Observations
Climate Modelling
Climate Dynamics
For further information please see the Module Handbook.
ADVANCE Module
In the ADVANCE module students choose from a range of core elective courses on physical oceanography, physical climate science and modeling covering both scientific and methodological aspects. This allows the students to get specialized in a particular direction within ocean and climate physics and is useful to prepare for the master thesis.
Possible ADVANCE courses
ADDITIONAL Module
The ADDITIONAL module offers students the opportunity to widen their understanding of the natural sciences by choosing courses from the Faculty for Mathematics, Informatics and Natural Sciences (MIN). This includes the courses from the Departments of Geophysics, Meteorology, Physics, Mathematics, Marine Biology and from the three tracks of the Integrated Climate System Sciences (ICSS) MSc at Universität Hamburg. This provides a vast range of different views on natural sciences.
SPECIALIZATION Module
The SPEC module helps students get started in becoming an expert in a particular field of oceanography or climate science and provides regular guidance and advice for research and literature research. The module also equips students with invaluable soft skills for science communication by personal and meaningful feedback from classmates and lecturers.
THESIS Module
As the last module to be completed the THESIS module pairs students with a professor and a researcher to tackle an actual, current and relevant research question. The topic, to be chosen by the student, usually also falls in the research area of one of our many professors and therefore students get the best possible guidance in their research. Over the course of the module students prepare a thesis that is often submitted to a journal after completion.