Dr. Kerstin Jochumsen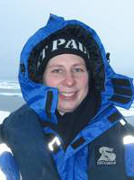 Wiss. Mitarbeiterin
Experimentelle Ozeanographie
Anschrift
Universität Hamburg
Experimentelle Ozeanographie
Bundesstr. 53
20146 Hamburg
Büro
Bu 53
Raum: 248
Kontakt
Fax: +49 40 42838-7477
Schwerpunkte
Experimentelle Ozeanographie
Wissenschaftlicher Werdegang
Kerstin Jochumsen was born in Hamburg, Germany, on August 16, 1978. She studied Physical Oceanography at the University of Hamburg and received her Diploma degree (Dipl. Oz.) in 09/2003. During her Diploma thesis she merged three simple models to a regional ocean model of the Barents Sea, which calculated ocean currents, ice formation and convection.
In 2003, she joined the Institute of Environmental Physics of the University of Bremen where she worked within the German contribution of the international CLIVAR project. The tropical Atlantic Ocean circulation and the formation and decay of North Brazil Current Rings have been her favored research topics. She used various oceanographic data sets, such as CTD, ADCP and Argo float data. She received her PhD degree (Dr. rer. nat.) from the Department of Physics and Electrical Engineering of the University of Bremen in 11/2007.
During her Post-Doc time from 12/2007 to 05/2010 in Bremen she was focused on interpreting modeling results of high resolution ocean models covering the Caribbean Sea and the Lesser Antilles.
Since June 2010 she is a member of the Experimental Oceanography group at the Institute of Oceanography of the University of Hamburg. Her research concentrates on the dense water in the high latitudes of the Atlantic Ocean and shecontributes to the NACLIM and RACE projects.
Forschungsschwerpunkte
Hydrography and current variabilty in Denmark Strait
Variability of the dense overflows from the Nordic Seas
Export of Labrador Sea Water through Flemish Pass
Water masses in the tropical Atlantic and Caribbean Sea
Formation, propagation and decay of North Brazil Current Rings
Schifffahrten
| | | | | |
| --- | --- | --- | --- | --- |
| Vessel/Cruise | Research region | Date | Departed from | Arrived at |
| RV Merian, MSM 27 | Flemish Pass | Apr 2013 | St.Johns/Canada | St.Johns/Canada |
| RV Merian, MSM 21/1b | Denmark Strait | Jun 2012 | Reykjavik/Iceland | Reykjavic/Iceland |
| RV Merian, MSM19/1a | Namibian Shelf | Sep 2011 | Walvis Bay/Namibia | Walvis Bay/Namibia |
| RV Meteor, M85/2 | Denmark Strait/Irminger Sea | Aug 2011 | St.Johns/Canada | Reykjavic/Iceland |
| RV Meteor, M82/1 | Denmark Strait/Irminger Sea | Jul 2010 | Reykjavic/Iceland | St.Johns/Canada |
| RV Thalassa, SUBPOLAR 08 | Subpolar North Atlantic | Aug-Sep 2008 | St.Johns/Canada | Brest/France |
| RV Meteor, M66/1 | Tropical Atlantic | Aug-Sep 2005 | Las Palmas/Spain | Willemstadt/Netherlands Antilles |
| RV Meteor, M62/1 | Tropical Atlantic | Jun-Jul 2004 | Fort-de-France/France (DOM) | Fortaleza/Brazil |
| RV Sonne, SO171 | Tropical Atlantic | May-Jun 2003 | Recife/Brazil | Pointe-á-Pitre/France (DOM) |
| RV Meteor, M53/3 | Tropical Atlantic | Jun 2002 | Recife/Brazil | Pointe-á-Pitre/France (DOM) |
| RV Meteor, M50/3 | Irminger Sea | Jun-Jul 2001 | St.Johns/Canada | Reykjavic/Iceland |
| Jan Mayen | Greenland Sea | Mar 2001 | Tromsö/Norway | Tromsö/Norway |
| Lance | Greenland Sea | Sep 2000 | Longyearbyen/Svalbard | Longyearbyen/Svalbard |
| RV Valdivia, V171 | Greenland-Scotland-Rise | Jun 1998 | Hamburg/Germany | Reykjavic/Iceland |
Publikationen
Hansen, B.; Poulsen, T.; Margretha Húsgard Larsen, K.; Hátún, H.; Østerhus, S.; Darelius, E.; Berx, B.; Quadfasel, D.; Jochumsen, K.. "Atlantic water flow through the Faroese Channels". Ocean Science 13 (6). (2017): S. 873-888.doi: 10.5194/os-13-873-2017
Hewitt, C.; Buontempo, C.; Newton, P.; Doblas-Reyes, F.; Jochumsen, K.; Quadfasel, D.. "Climate observations, climate modeling, and climate services". Bulletin of the American Meteorological Society 98 (7). (2017): S. 1503-1506.doi: 10.1175/BAMS-D-17-0012.1
Jochumsen, K.; Moritz, M.; Nunes, N.; Quadfasel, D.; Larsen, K. M. H.; Hansen, B.; Valdimarsson, H.; Jonsson, S.. "Revised transport estimates of the Denmark Strait overflow". Journal of Geophysical Research: Oceans 122 (4). (2017): S. 3434-3450.doi: 10.1002/2017JC012803
Mastropole, D.; Pickart, R. S.; Valdimarsson, H.; Våge, K.; Jochumsen, K.; Girton, J.. "On the hydrography of Denmark Strait". Journal of Geophysical Research: Oceans 122 (1). (2017): S. 306-321.doi: 10.1002/2016JC012007
Hösen, E.; Möller, J.; Jochumsen, K.; Quadfasel, D.. "Scales and properties of cold filaments in the Benguela upwelling system off Lüderitz". Journal of Geophysical Research: Oceans 121 (3). (2016): S. 1896-1913.doi: 10.1002/2015JC011411
Vollständige Publikationsliste
---