Snow Thickness
Snow is an important component of the Arctic climate system. Due to its high albedo and its low thermal conductivity, snow on sea ice largely determines the surface energy balance in polar regions. Snow also modifies the signal observed from satellites, and information on the snow cover is required for the estimation of ice thickness from altimetry measurements (i.e. measurements of the satellite's height over the Earth's surface), for example. Until now, the only continuous large-scale measurements of snow thickness have been provided by passive microwave satellites operating at 19 and 37 GHz frequencies. However, these satellite measurements are not suitable for the retrieval of snow thickness on multi-year ice in the Arctic because at these frequencies the measured signals from multi-year ice and from water are not distinguishable. Multi-year ice is ice that has survived at least one summer melt season in the Arctic. It is usually less saline and more permeable than first-year ice, i.e. sea ice newly formed during the current ice growth season.
Measurements from the European Space Agency's (ESA) Soil Moisture and Ocean Salinity (SMOS) satellite mission have been used to infer ice thickness up to about 50 cm to 1 m. Compared to previously operated microwave satellites, SMOS measures at a very low frequency of 1.4 GHz. We found that over thick sea ice (where we cannot infer the ice thickness with SMOS) there is a relationship between the measured 1.4 GHz radiation and the thickness of the snow layer on top of the ice. A first comparison of SMOS-derived snow thicknesses and snow thicknesses measured during a flight campaign in the Arctic in spring 2012 shows a reasonable agreement (see Figure below).
More informations:
Maaß, N., L. Kaleschke, X. Tian-Kunze, and M. Drusch (2013), Snow thickness retrieval over thick
Arctic sea ice using SMOS satellite data, The Cryosphere, 7, 1971-1989, doi:10.5194/tc-7-1971-2013
Snow thickness as retrieved from SMOS satellite data (background) and as measured during NASA's "Operation IceBridge" flight campaign (circles) in March/April 2012.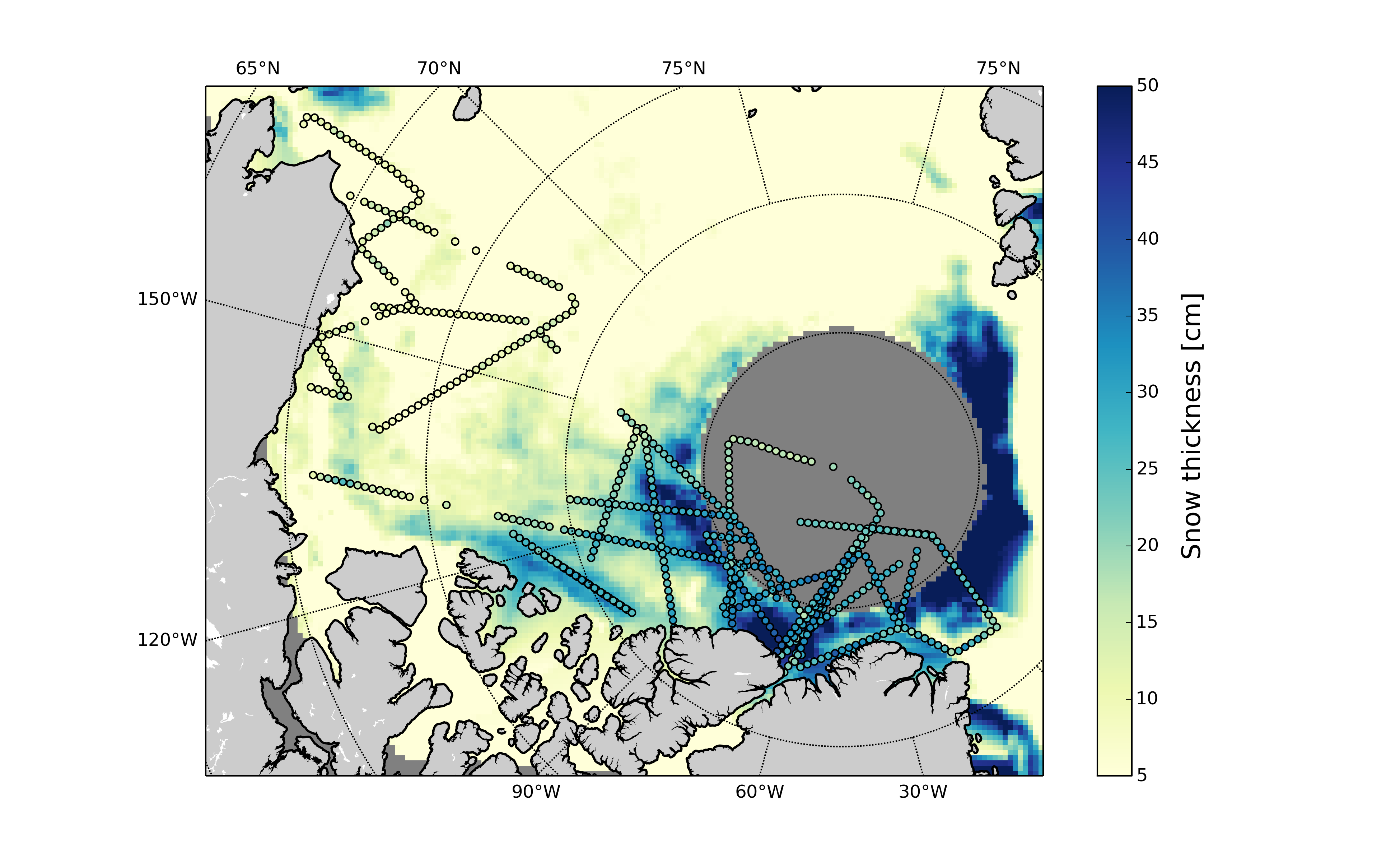 ---