Sea Ice Thickness
Thin sea ice with a thickness of less than 50 cm plays a fundamental role for the energy exchange between the atmosphere and the ocean in the polar regions, as well as for the dynamics of sea ice. Thus, a continuous large-scale observation of thin ice areas in the polar regions would provide an important contribution to monitoring our climate system. The European Space Agency's (ESA) Soil Moisture and Ocean Salinity (SMOS) satellite mission was launched in 2009, and, for the first time, allows for globally measuring the Earth's radiation at a low microwave frequency of 1.4 GHz (about 21 cm wave length). Although SMOS was originally designed to provide global measurements of soil moisture and ocean salinity (as its name says), it has also been used to retrieve information on sea ice. In contrast to the higher frequencies at which previous passive microwave sensors have been operated, at 1.4 GHz, radiation measured above sea ice originates not only from the surface of the ice but also from deeper parts of the ice and, if the ice is not too thick, from the water underneath the ice. As a result, SMOS measurements provide information on the thickness of ice, up to thicknesses of about 50 cm to 1 m. In our group, an innovative retrieval algorithm has been developed and is used to operationally produce daily SMOS-derived thin sea ice thickness maps of the Arctic. These maps are available via icdc.zmaw.de.
More informations:
Kaleschke, L., X. Tian-Kunze, N. Maaß, M. Mäkynen, and M. Drusch (2012), Sea ice thickness retrieval from SMOS brightness temperatures during the Arctic freeze-up period, Geophysical Research Letters, 39(L05501)
Tian-Kunze, X., L. Kaleschke, N. Maaß, M. Mäkynen, N. Serra, M. Drusch, and T. Krumpen (2014), SMOS derived sea ice thickness: algorithm baseline, product specifications and initial verification, The Cryosphere, 8, 997-1018.
Sea ice thickness from SMOS data
Monthly mean sea ice thickness derived from SMOS brightness temperatures in the Arctic for November 2012. Note that the maximum retrievable ice thickness with SMOS is about 1 m. Thus, here these values indicate ice thicknesses of at least 1 m.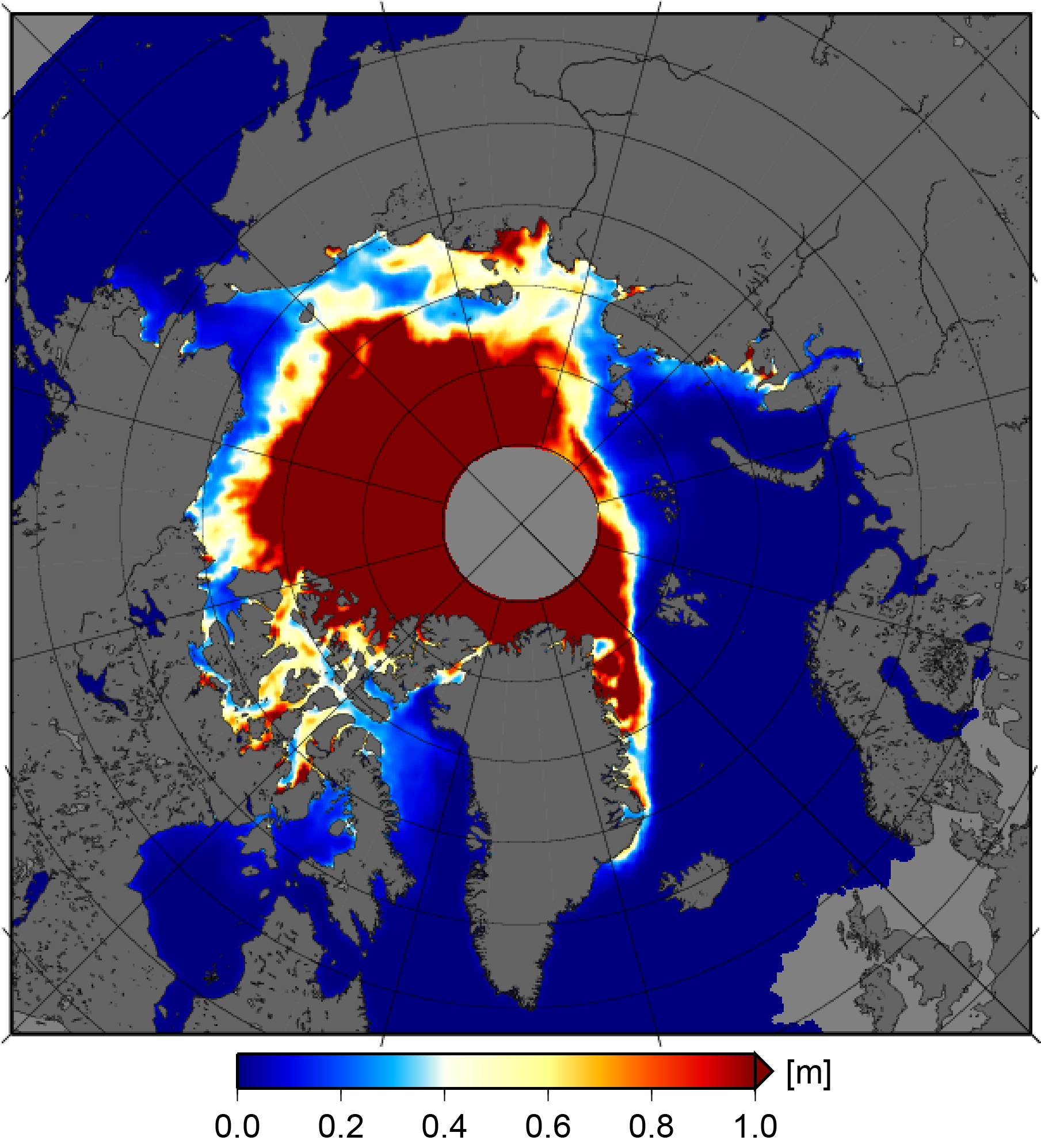 ---