Dr. Gualtiero Badin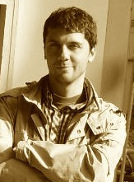 Dr.
Theoretical Oceanography
Address
Universität Hamburg
Theoretical Oceanography
Bundesstr. 53
20146 Hamburg
Office
Bu 53
Room: 345
Contact
Fax: +49 40 42838-7471
Key aspects of activity
Scientific path
since 2012 Junior Professor, Universität Hamburg
2011-2012 Research scholar, Princeton University, USA
2010-2011 Post-doctoral researcher, Boston Unversity, USA
2007 Ph.D. in physical Oceanography, University of Liverpool, UK
2003 Physics Degree, University of Trieste, Italy
Main research interests
Physics, especially geophysical fluid dynamics and physics of the ocean, the atmosphere and the climate, viewed from very large to small scales. Parts of my research cover the following topics:
Geophysical fluid dynamics
Large-, meso- and sub-mesoscale ocean and atmospheren dynamics
Dynamical instabilities in fluids and geophysical fluids
Geostrophic turbulence
Water mass transformation theory
Ocean-Climate variability
Coastal dynamics
My research methods include development of analytical models, comparison of theoretical results with observations as well as realistic and idealized numerical models.
---